Praga S5T-3 SUPER, the suction vehicle is on the chassis version for a three-sided tipper, the frame is extended at the front and rear by 160 mm, the superstructure was manufactured by Karosa national company Vysoké Mýto in the plant Karosa np Brno.
Compared to other Praga S5T models, the vehicle is manufactured at 24V due to the components used on the superstructure (Tatra two-way valves, hydraulic distributors, etc.). The interior is standard, such as at sklápačky just added a speedometer pump and run the pump and compressor operating tanks.
From the history of the car, which was the model of the model: The vehicle was purchased in 1972 by ŠKODA PLZEŇ - ZÁVOD VÝSTAVBA A ÚSTŽBA where it served until about 1990. It was then converted and still used by Škoda Sedlec. In about 1998, the company was decommissioned and transferred to the private property of Mr. J. Nemc's father and his friend. Subsequently, the car underwent gradual repairs and subsequently Prague was put into operation.
Since 1998, this Prague has been used as a fecal vehicle in and around the village. Subsequently, it was parked in the garden where it fell into disrepair until 2018.
It got into the current and fully renovated state only in 2018 thanks to Mr. Jakub Nemc
Technical attractions: The S5T suction vehicle is used for pumping and removing sludge from sewer manholes and other industrial faeces. The pumping of solid sludge is ensured by dilution with water from the storage tank (500 I). The superstructure of the suction vehicle is built on the PRAGA S51 / 3 chassis, consisting of a tank with a capacity of 2900 l for sludge transport, a smaller part at the front with a capacity of 500 L serves as a tank for clean water. A suction arm with a rotating mechanism is mounted in the main part of the tank. The rear tank lid is openable. In the front of the vehicle, under the bonnet, a compressor is mounted on the right side, on the left pump, driven from the front of the engine crankshaft, by means of a gearbox. On the left side of the vehicle there is a flow reel with a hose and a spare wheel. On the right rear of the tank is located manually operatedmini crane . There is an accessory cabinet between the tank and the driver's cab on the right. Lifting the tank, opening the rear lid, lifting the suction arm is done hydraulically. Switching on the compressor, the water pump with an electromagnetic clutch from the driver's cab, the hydraulic pump and tilting the tank is also performed by the appropriate levers in the cab from the driver's seat.

Production preparation process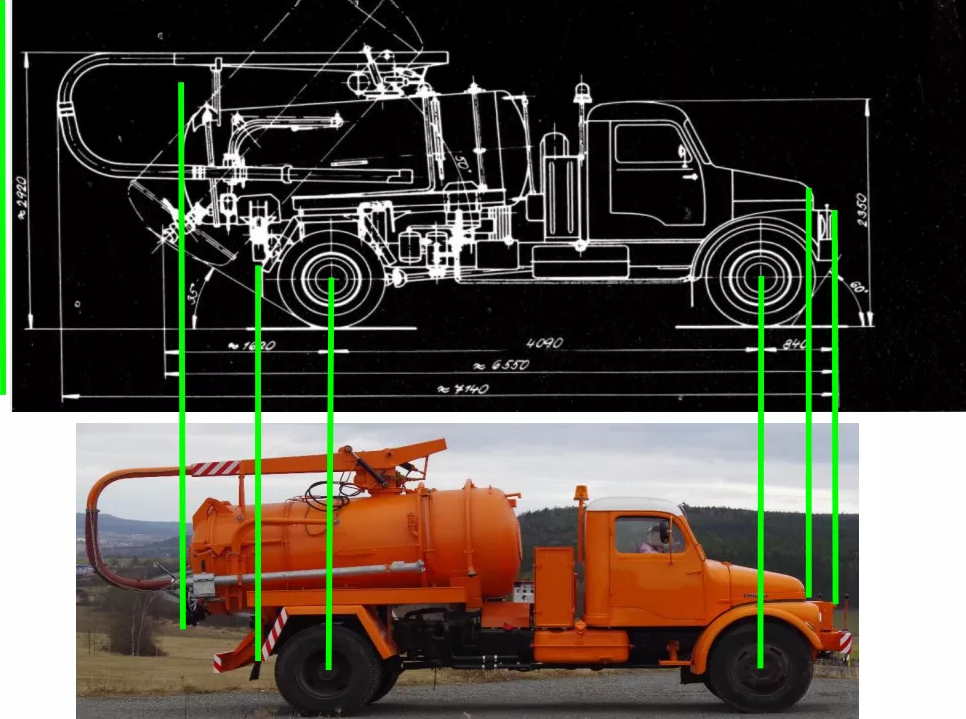 1. Prototype



2. Prototype



3. Prototype



Final model




Photos of the real vehicle
Stocking the model