The highly mobile TATRA 8×8 heavy duty tactical truck integrated with a military load handling system interfaces with NATO STANAG 2413 bodies and existing military and in-service bodies (even with non-standard sidewalls). The system installed height with the ISO1C container is minimized below 4 m to meet European road regulations. The container lift frame storage assembly is mounted in the front of the subframe. It serves to store the lifting frame of the container
when the vehicle is empty or in Flatrack mode. A complete loading or unloading cycle of the Flatrack takes approximately 2 minutes. Platforms and superstructures are locked/unlocked automatically, while all operations are performed from the driver's position. Complete ISO container Loading or unloading cycle takes about 5 minutes. ISO containers require external manual locking/unlocking to connect/disconnect the lifting frame to the container and to engage/disengage the ISO twistlocks. The load handling system handles the entire payload up to 300mm below ground level. Using a suitable trailer with a load handling system will double the load capacity of the unit. The configuration allows the load handling system to handle the following equipment up to 16,500 kg:
• ISO 668 20' IC (8 ft) and 1CC (8.5 ft) cargo containers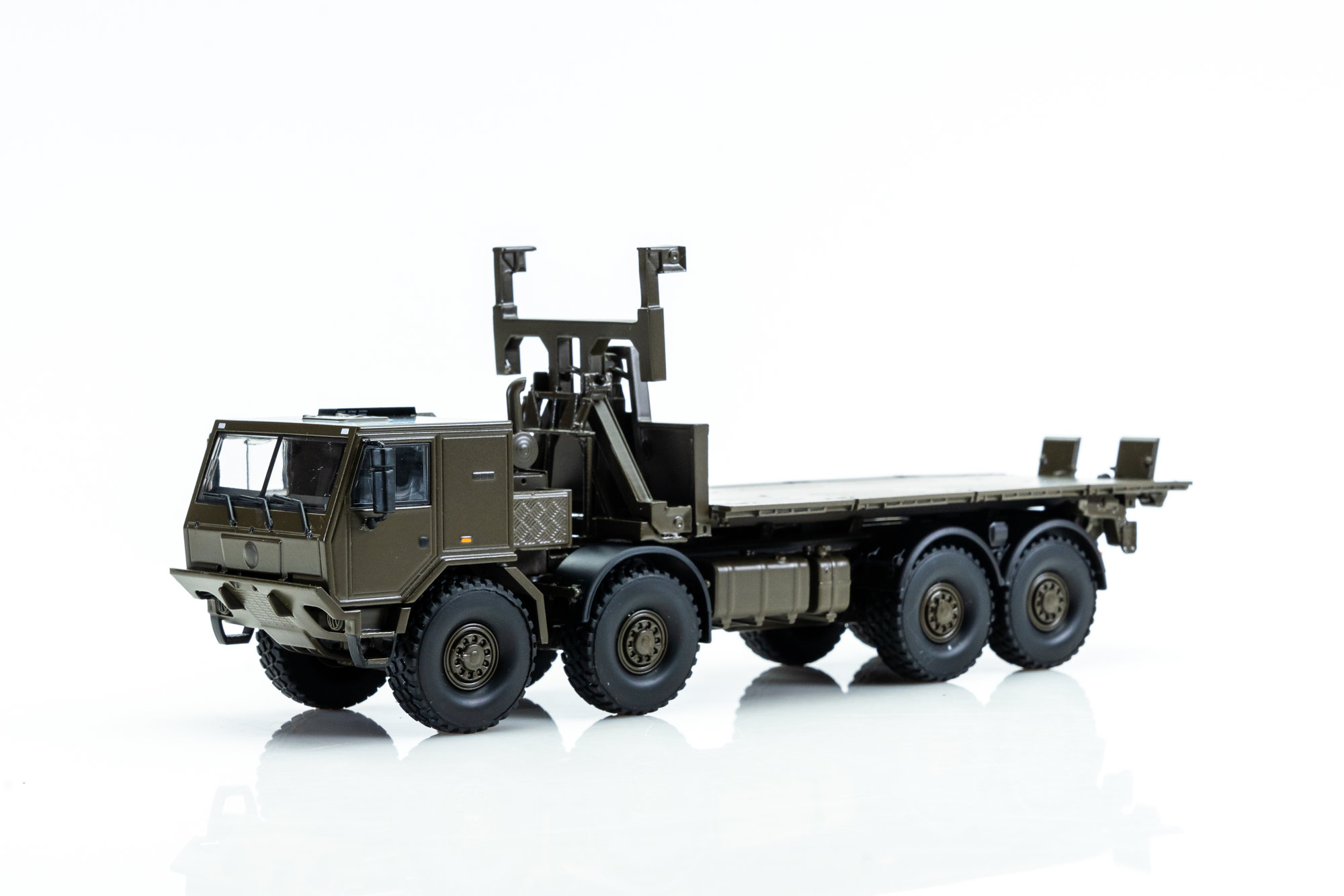 • Flatracks/Bodies NATO standard according to STANAG 2413
• PLM Flatracks without tilt according to STB 07-37209-A1
• PLM EMAT 20 70 10 Flatracks • IFR MARS Flatracks
• WLP 14t and WLP 14t-2 Flatrack/ Body according to DIN 30722 Pt1 and Pt2.
• C-130 portable • Adjustable vehicle height and ground clearance
• All-wheel drive • Differential locks
• CTIS controlled on the fly
• Optional additional armor kits to be implemented by the end user if required.
CHASSIS CAB 8×8 HMHD WITH CARGO HANDLING SYSTEM

Made by KADEN for modelsnavigator.com and earmyshop.cz

ENGINE:
Air-cooled, four-stroke turbocharged and air-cooled diesel engine with direct injection.
Model TATRA T3C-928-90 EURO III
Number of cylinders: 8
Bore/stroke 120/140 mm
Volume 12.7 l
Power 300 kW/1800 rpm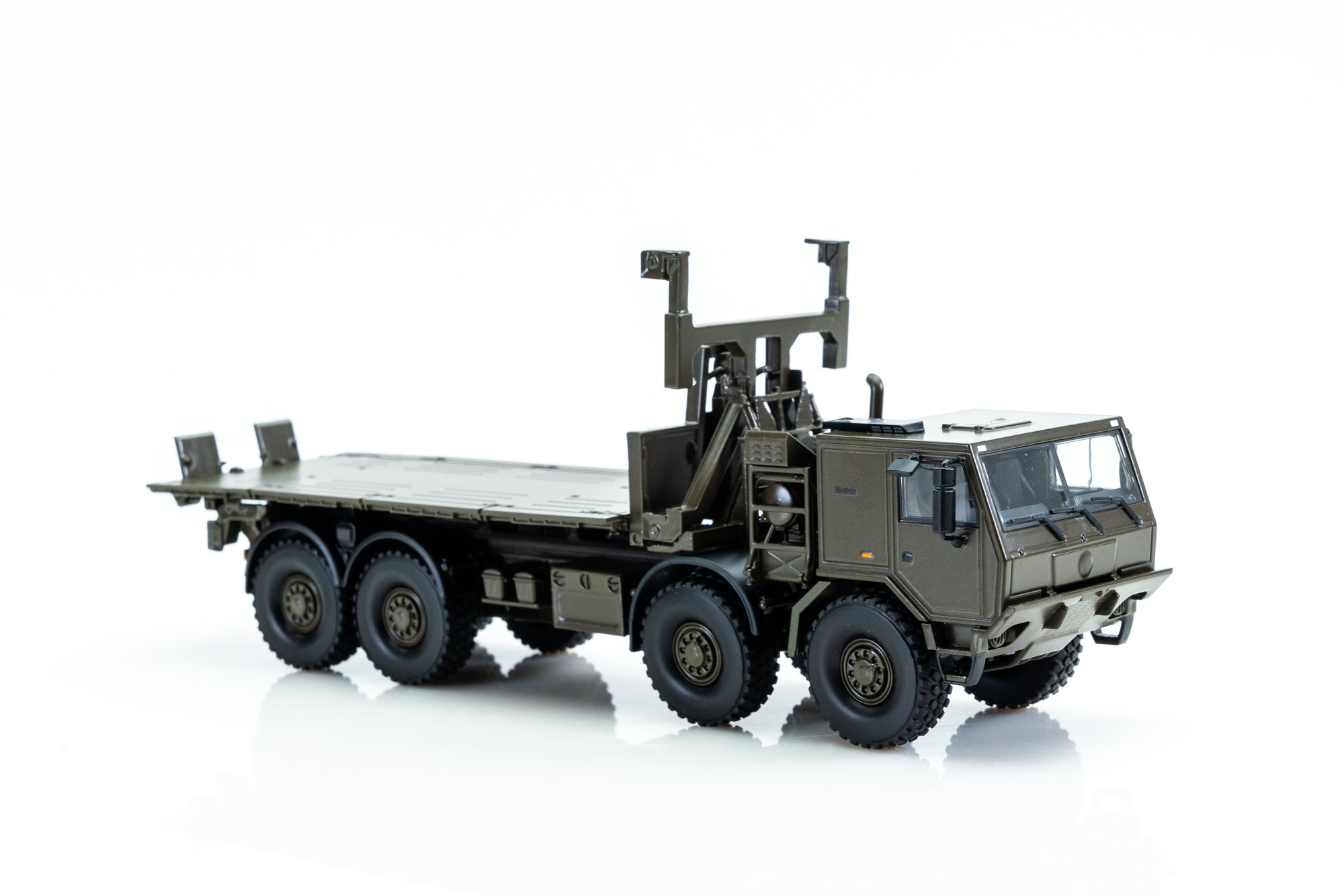 Max. torque 2,100 Nm/1,000 rpm

CLUTCH:
MFZ 1×430, single plate, with diaphragm spring.
Hydraulic control with pneumatic booster.

TRANSMISSION:
Model TATRA 14 TS 210L
Number of speeds: - forward 14
- reverse 2
Semi-automatic division. Except for creep and reverse, all gears are synchronized.
Option: automated shifting.

TRANSMISSION BOX:
Type TATRA 2.30 TRS 0.8/1.9. Pneumatic control.

FRONT AXLES:
TATRA controlled and driven pivoting semi-axles with independent wheel suspension,
axle differential locks and inter-axle differential lock. Wheel hub reductions.
Air springs and telescopic shock absorbers.

REAR AXLES: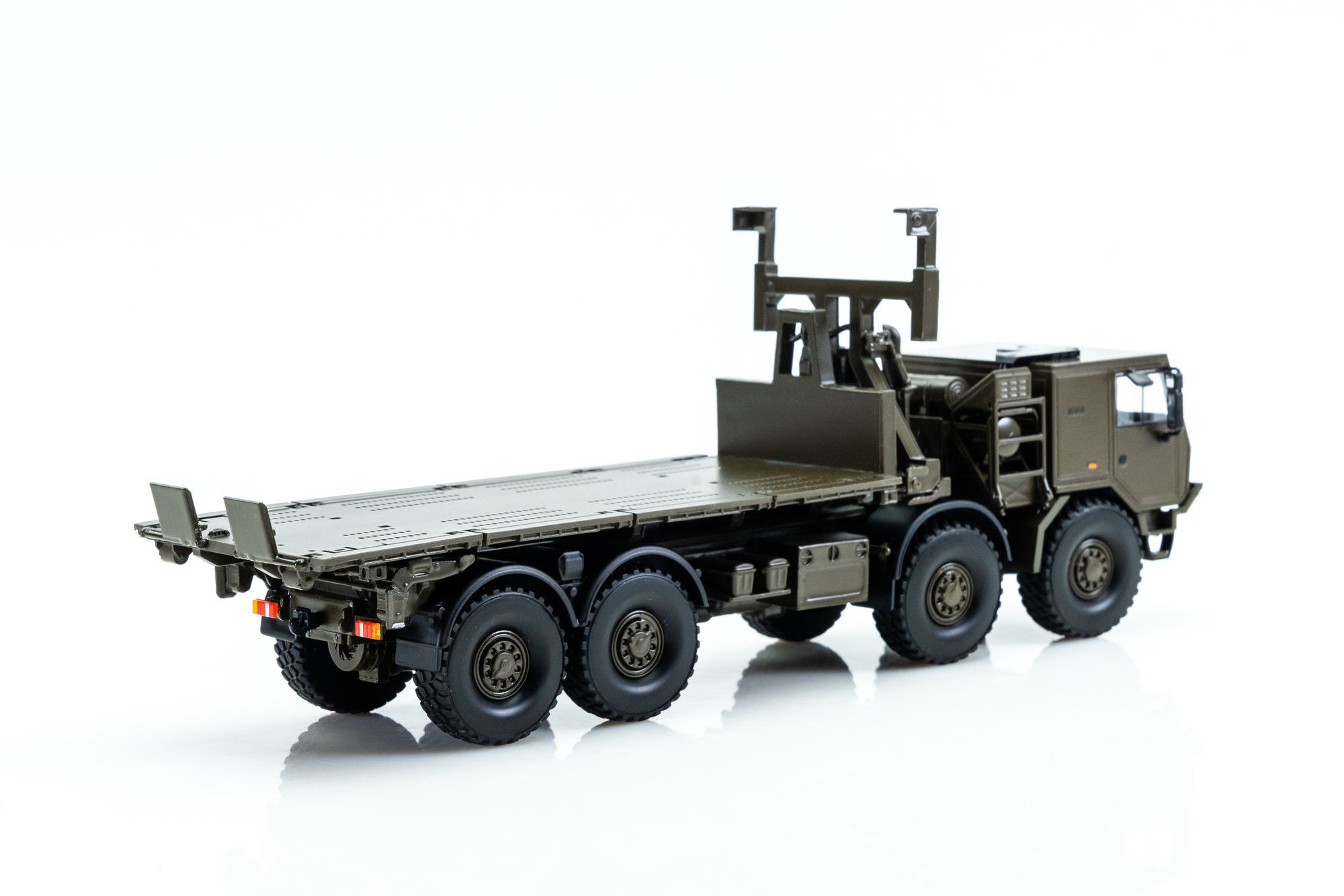 TATRA powered swinging semi-axles with
independent wheel suspension, axle differential locks and inter-axle differential lock.
Wheel hub reductions.
Air springs and telescopic shock absorbers, sway bars.

STEERING:
Left/right steering, integrated power steering.

BRAKES:
Wedge self-adjusting drum brake units, ABS.
Four separate braking systems: service, emergency,
parking and engine brake.

WHEELS:
Simple tactical tires on all axles with CTIS.
Rims 20 -10.00V
Tires 16.00 R20
Type COE, Medium Size, Forward Tilt, All Steel, Two
Doors, 2 Adjustable Seats with Seat Belts, Fixed 3 Seats with
Seat Belt, Flat 2 Piece Windshield,
Right-Left Design , roof shaft. Rifle racks, sun shades, HVAC unit. C-130 portable. Ready to add armor.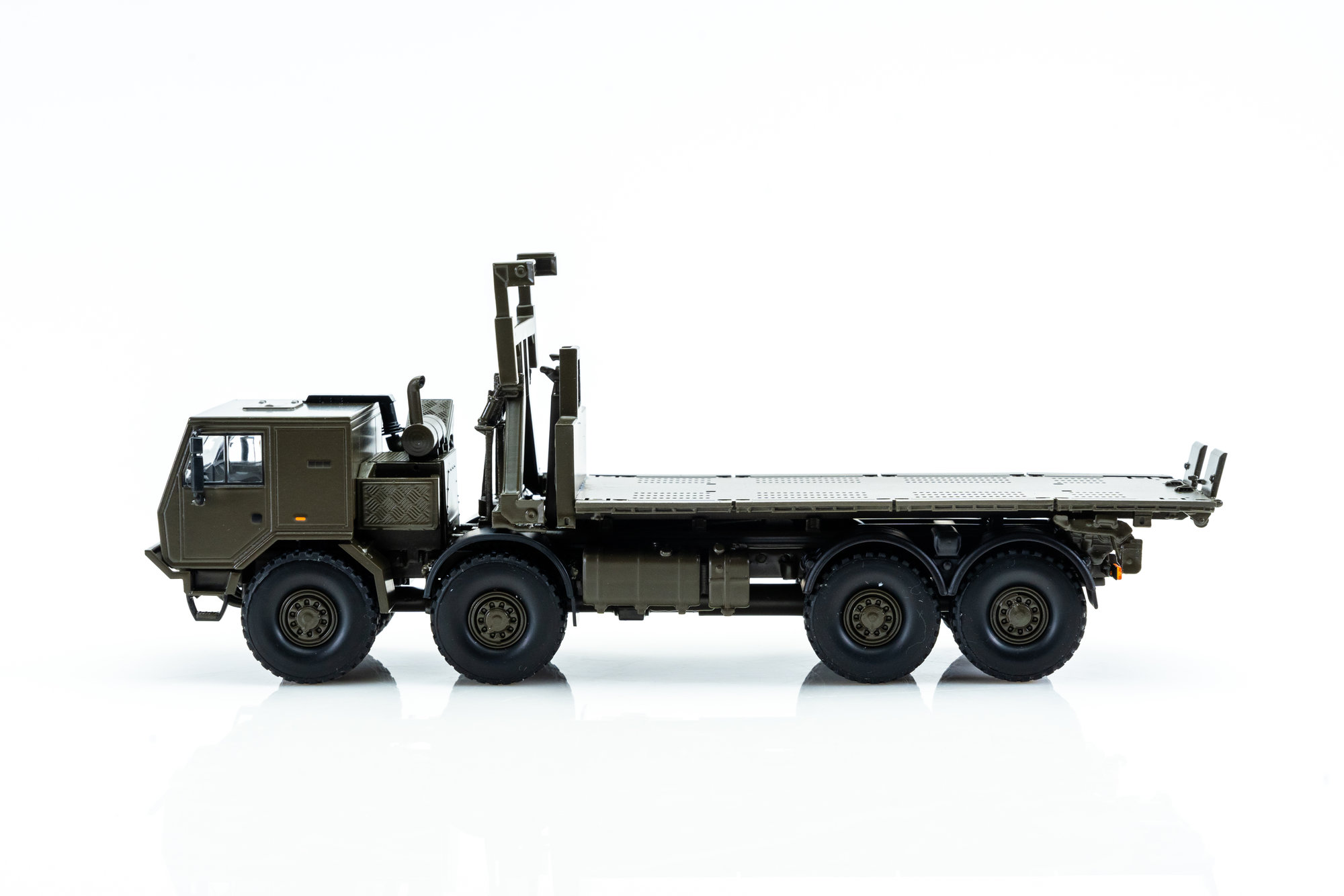 ELECTRICAL EQUIPMENT:
Nominal voltage 24V
Batteries 2×12V, 180 Ah
Alternator 80A/28V
DIMENSIONS
Width 2,550 mm
Front/rear track 2,072 mm
Ground clearance 410 mm Clearance
can be temporarily increased/reduced by
suspension while running.

WEIGHTS:
Curb weight 17,700 kg
Payload max. 18,100 kg
GVW max. 35,800 kg
Nominal total weight 38,000 kg

PERFORMANCE: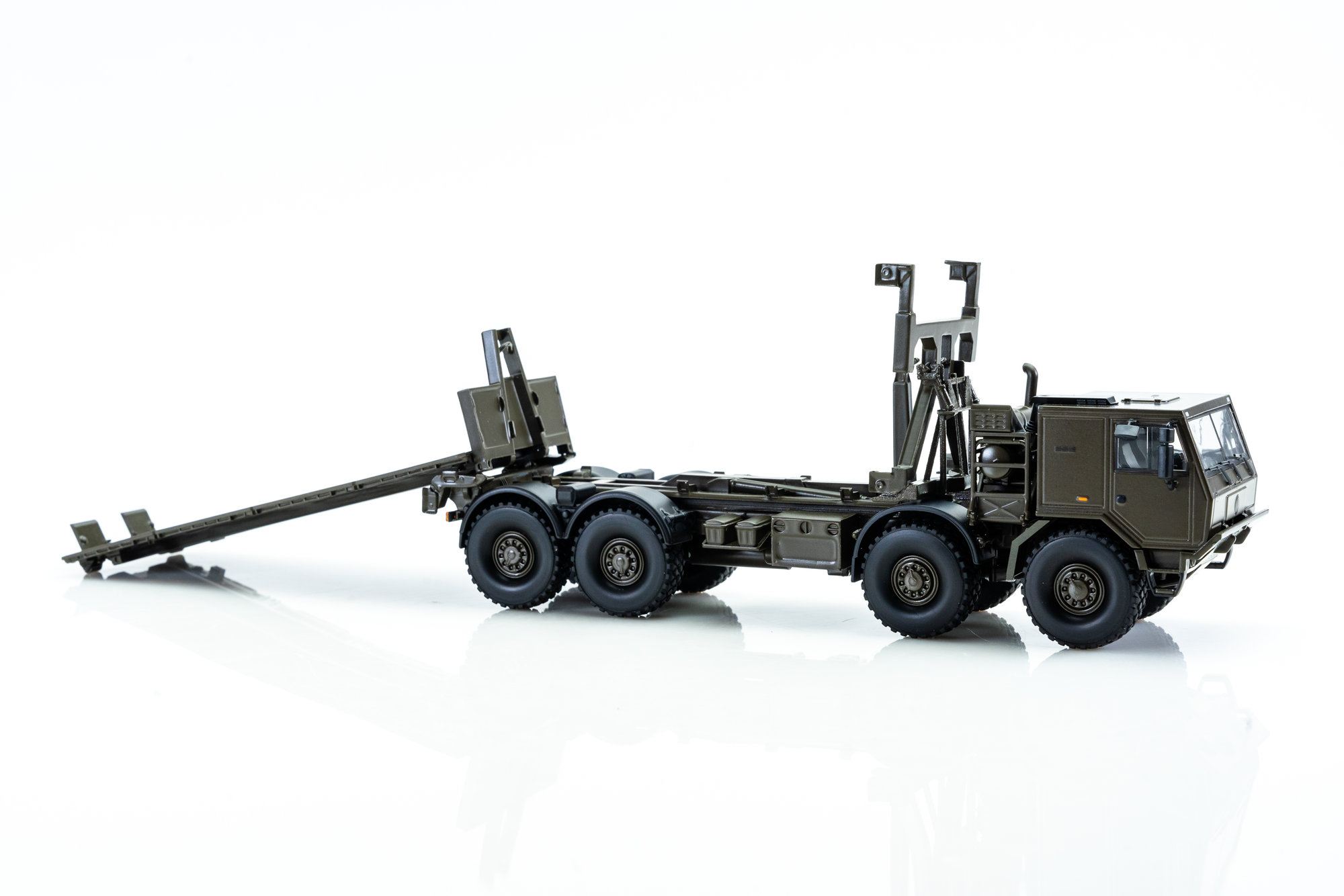 Maximum speed 115 km/h
Gradeability at GVW 60%
Side slope 45%
Turning circle (kerb to kerb) 27±1 m
Fording ability 1,500 mm
Passage - ditch width 2,100 mm
Climb - vertical step 600 mm
Fuel tank 420l
Range (on the road) 750 km
Ambient operating temperature -32°C to +49°C

LOAD HANDLING SYSTEM:
Rated load capacity of 16,500 kg (even 300 mm
underground) and 10% usable overload capacity
is available. Interfaces with flatracks and NATO STANAG 2413 bodies. Integrated storage ISO container
Handling unit. Minimum height to comply with European
road regulations.
Real machine - template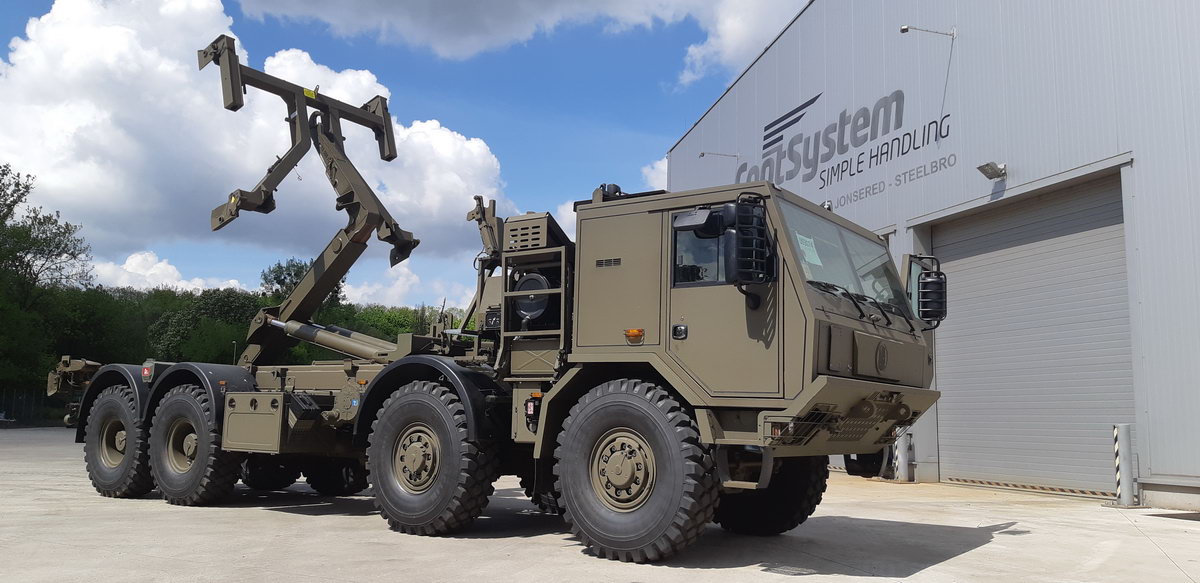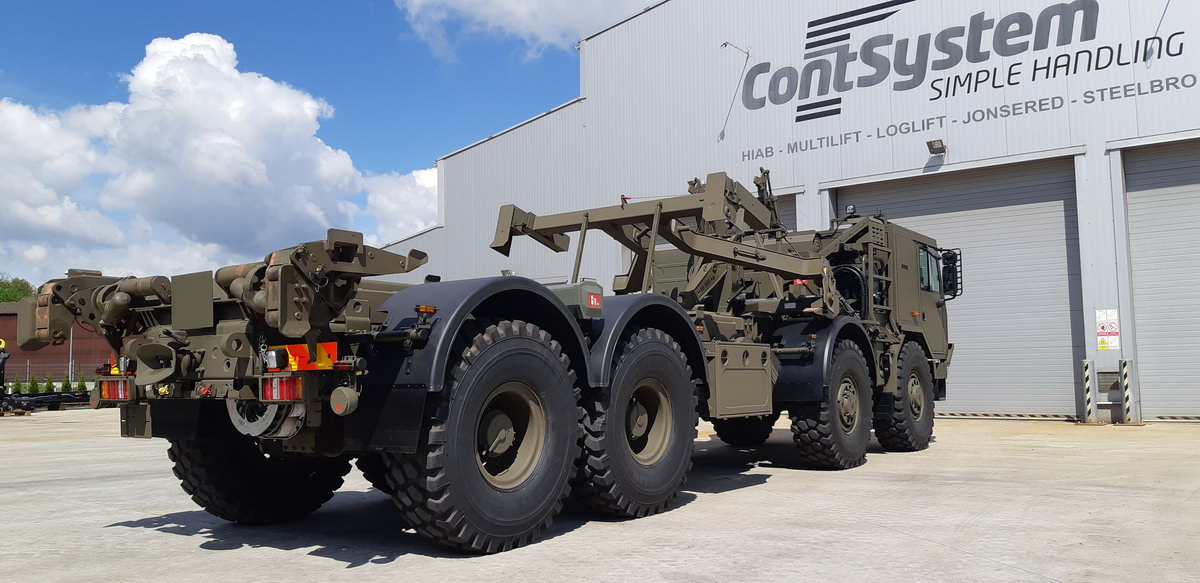 Drawing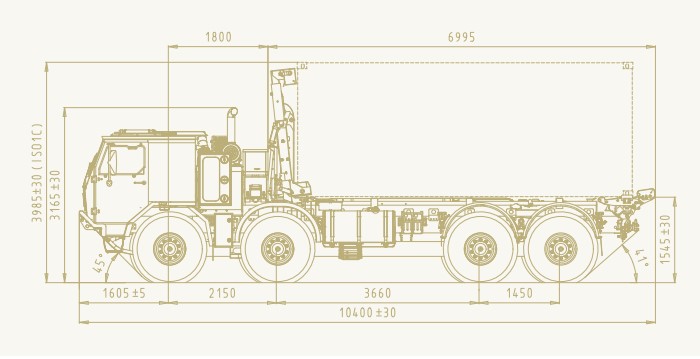 Arrival at the warehouse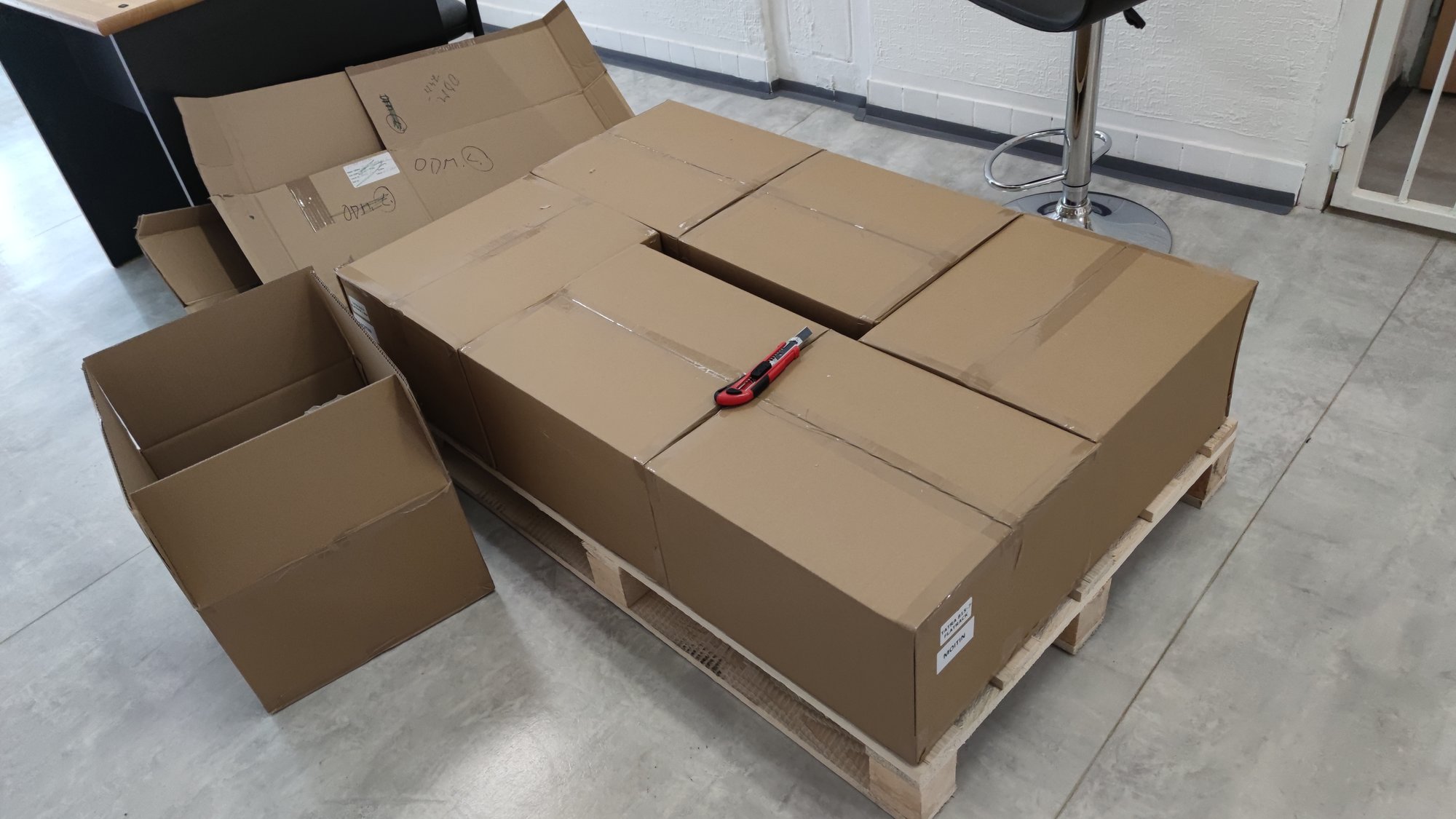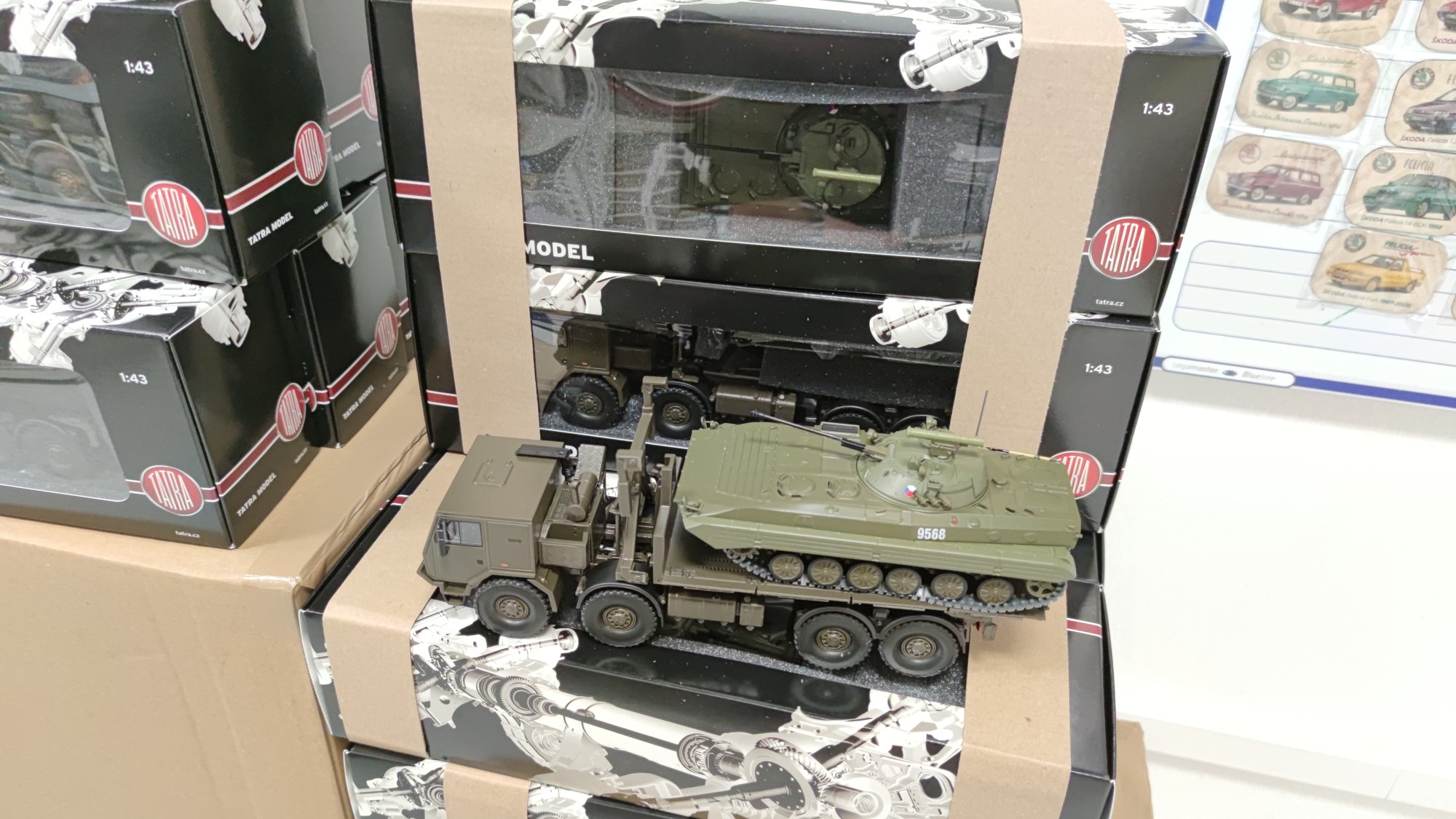 The final model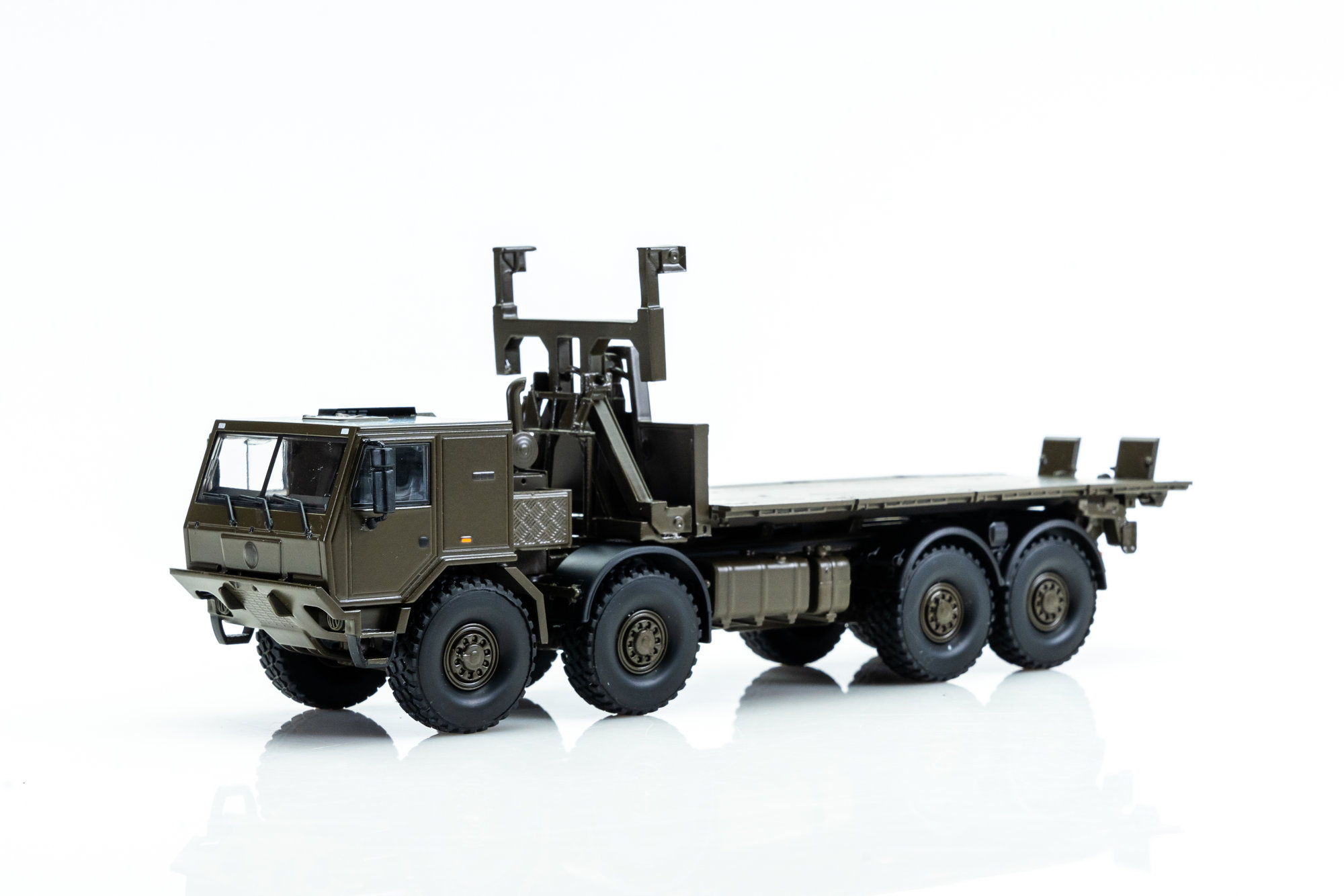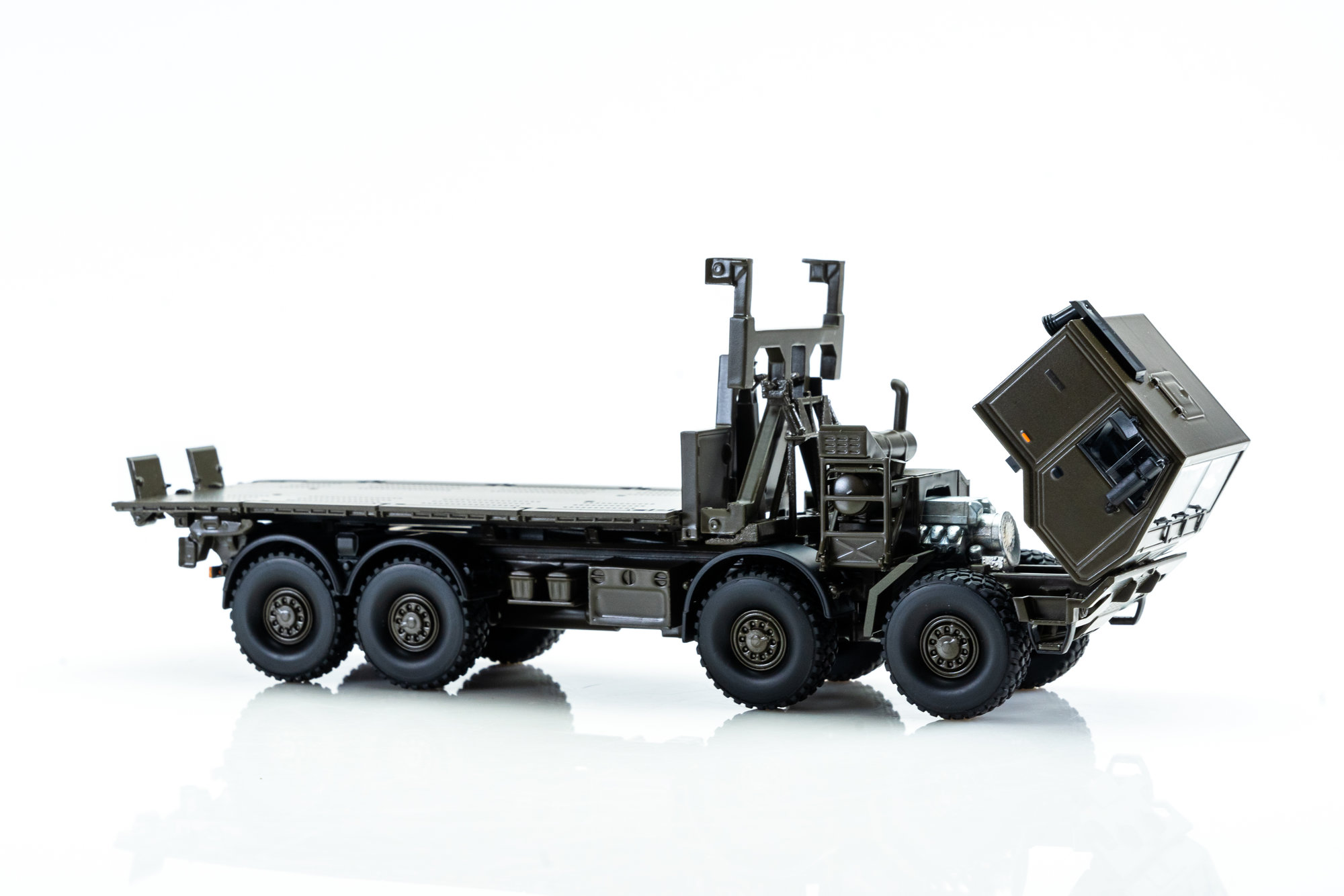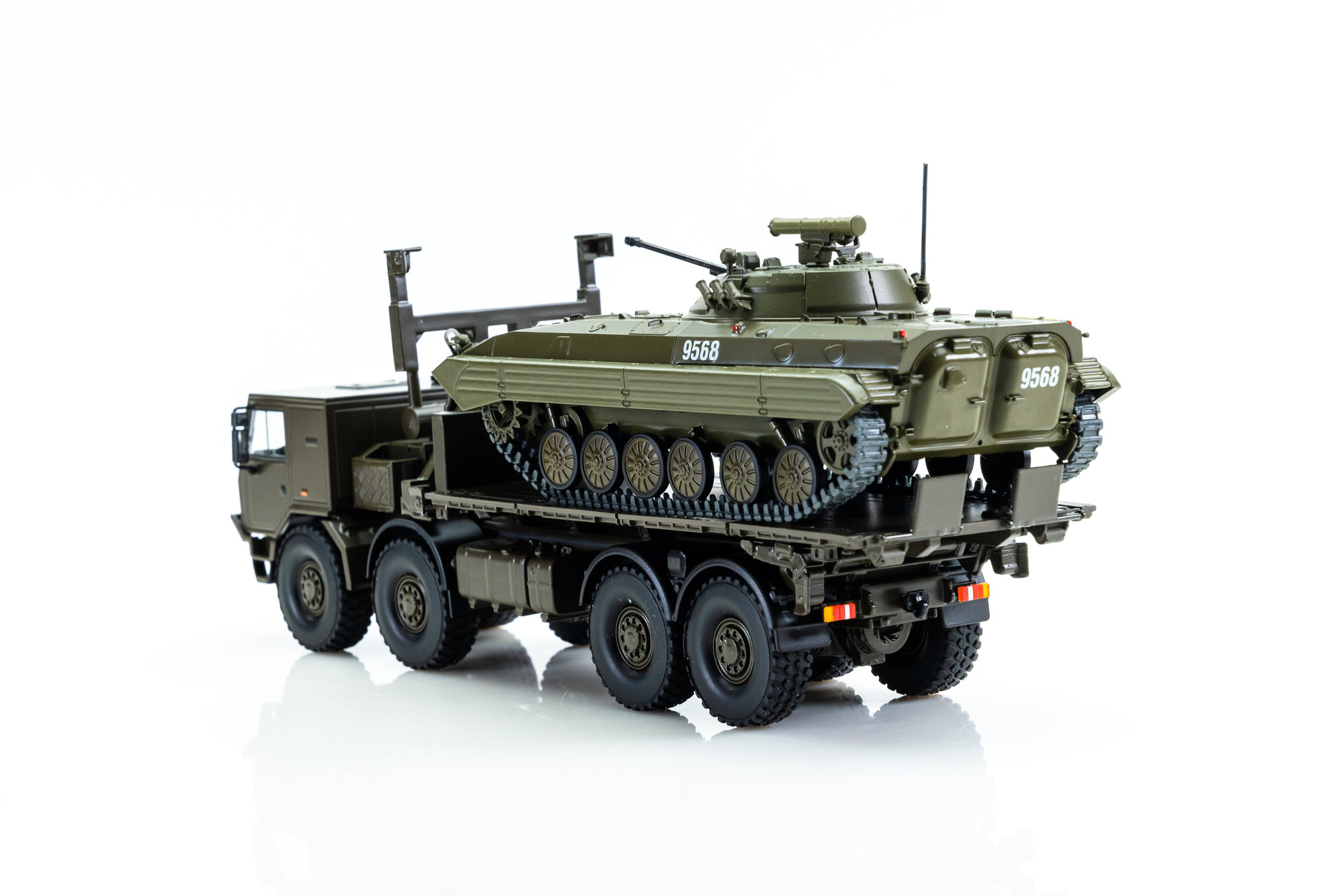 This blog was written by Dominik Gajdoš and Daniel Kováč.